Website Exclusive Colour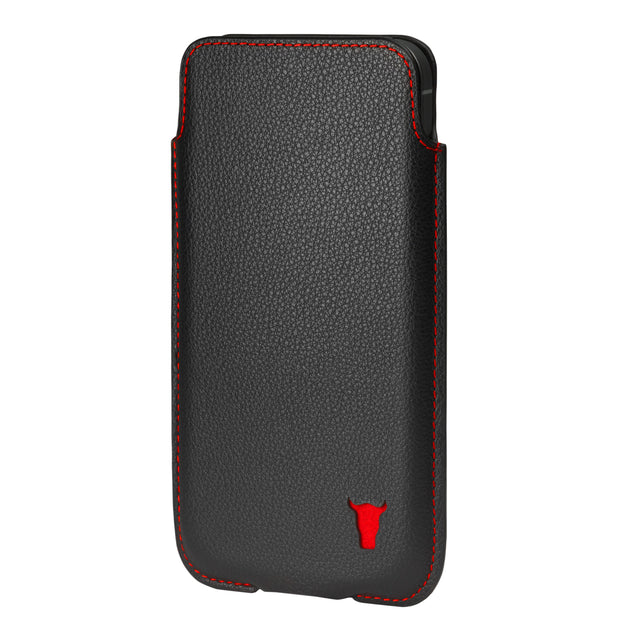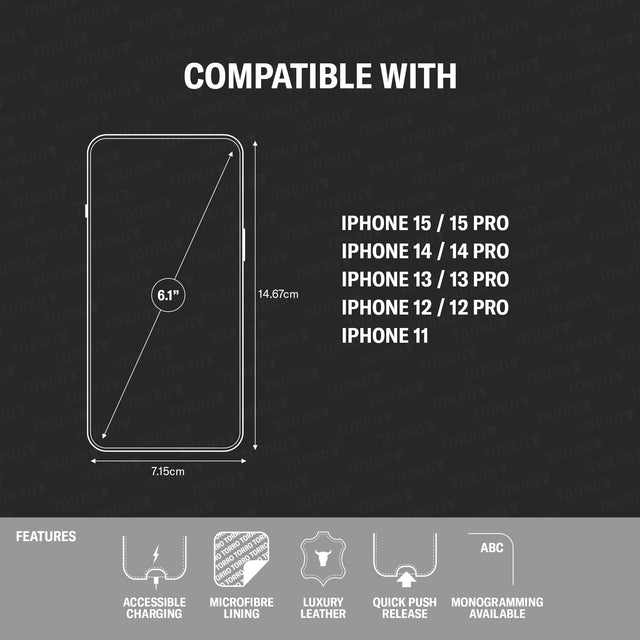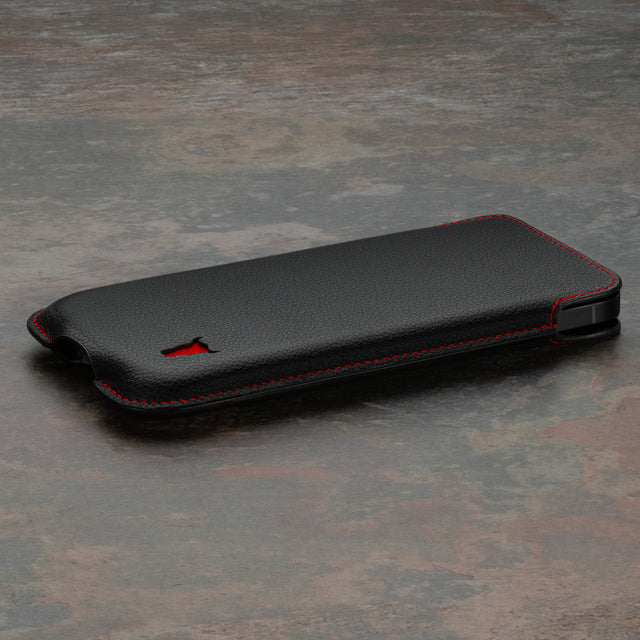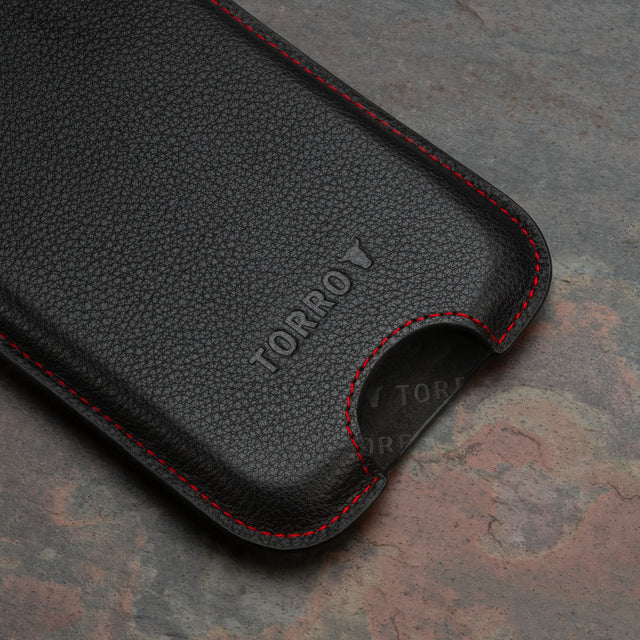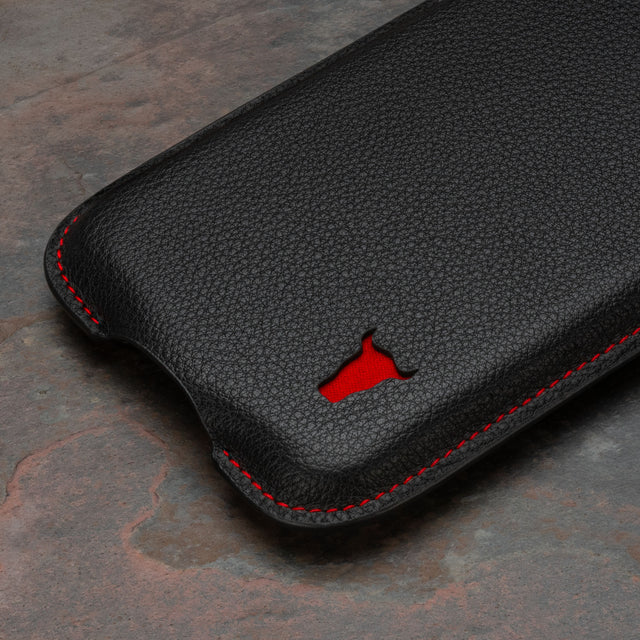 iPhone Leather Pouch Case (6.1-inch)
Key Features
Designed and handcrafted exclusively by TORRO, our leather pouch case adds style, function and all round protection to your iPhone Pro device.
Designed in Britain and handcrafted from top grain USA cowhide leather.
Slim design with unrestricted access to the charging port.
Quick push release for easy access to your iPhone.
Soft microfibre lining for extra protection.
Compatible with:

iPhone 15 Pro (A2848, A3101, A3102, A3104)
iPhone 15 (A3090, A2846, A3089, A3092)
iPhone 14 Pro (A2890, A2650, A2889, A2892, A2891)
iPhone 14 (A2882, A2649, A2881, A2884, A2883)
iPhone 13 Pro (A2638, A2483, A2636, A2639, A2640)
iPhone 13 (A2633, A2482, A2631, A2634, A2635)
iPhone 12 Pro (A2407, A2341, A2406, A2408).
iPhone 12 (A2403, A2172, A2402, A2404)
Description
TORRO Leather Pouch case designed and crafted exclusively for 6.1" iPhone. Our pouch case is a precision fit for this device, other devices of the same or slightly smaller dimensions will also be compatible.
Compatible with iPhone 6.1-inch versions - including iPhone 12, iPhone 12 Pro, iPhone 13, iPhone 14, iPhone 14 Pro, iPhone 15 and iPhone 15 Pro.
Handcrafted from genuine leather
The iPhone 6.1" pouch case is handcrafted from premium cowhide leather. The top-grain leather used is sourced from the finest tanneries in the US and undergoes minimal treatment in order to preserve the natural properties and appearance of TORRO luxurious leathers.
Quick push release
The Pouch Case benefits from a uniquely designed quick push release feature at the base of the case to allow you to easily remove your phone when required. Using a pouch case allows you to use the handset as Apple intended and appreciate the handset's design, but also provides drop and scratch protection while on the move.
Lightning cable and wireless charging compatible
For added convenience, the push release opening also provides access to charge your iPhone via cable without needing to remove the handset from the pouch. Additionally, the slimline design allows you to Qi charge your iPhone without needing to remove the pouch case.
Soft microfibre lining
The interior of the sleeve case is lined with soft microfibre to add extra protection for the screen and glass back of your handset. Every layer of material has been thoughtfully considered resulting in a slimline, protective, and luxurious sleeve case.
Additional Product Photos & Video
FREE Fast UK Mainland Shipping*
Standard UK Mainland Delivery is FREE on all orders over £20 (£1.99 on all orders under £20). Premium express delivery from only £2.49. Worldwide courier service calculated at checkout.
We pride ourselves on our customer service and all orders received before 1:30pm (Monday to Friday) are dispatched the same day. (Excludes Bank Holidays)
If you have any queries please check our shipping policy and shipping rates.

* additional charges apply for Scottish Highlands & Islands and BFPO.
30 Day Returns & 6 Month Warranty
In the unlikely event that you are not satisfied with your purchase, we offer a 30-day money-back guarantee on all items returned to us in an unused condition.
Our 6 Month Manufacturer Warranty covers you against manufacturing faults which occur during the first 6 months of use.
We are unable to offer an exchange or refund on personalised products unless the product itself is faulty.
If you have any questions or wish to return an item, please contact us on (0191) 270 5143 (10am - 2pm GMT) or email customercare@torro.co.uk
For more information, please read our Returns Policy
Questions & Answers
Is this case compatible with wireless charging?
Our cases do support wireless charging, but distance between the device and the charger diminishes the power transfer which can cause a device to not charge at all or slow the power transfer. Our internal testing has shown that the charger plug is just as important.
Read our Common Mistakes with Wireless Charging support article to ensure you have the correct wattage charger and plug for your device.
GOT A QUESTION?
Have you checked our FAQs. If you still have any un-answered questions please get in touch
What Our Customers Say
No reviews at present
iPhone Leather Pouch Case (6.1-inch)