Website Exclusive Colour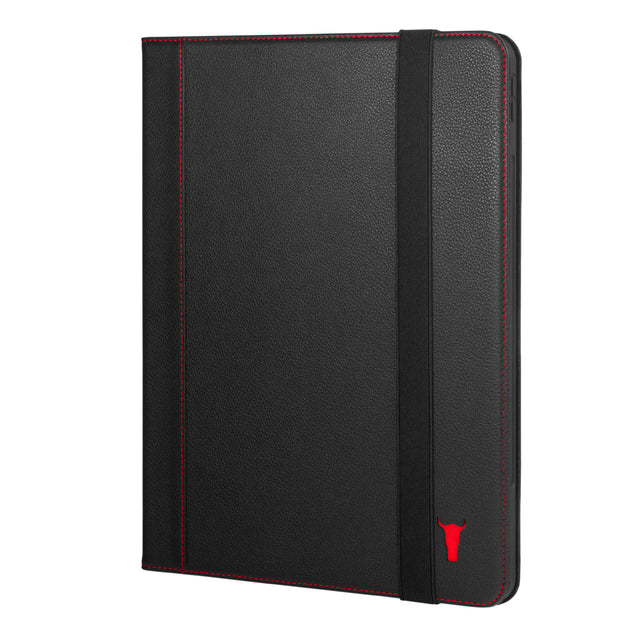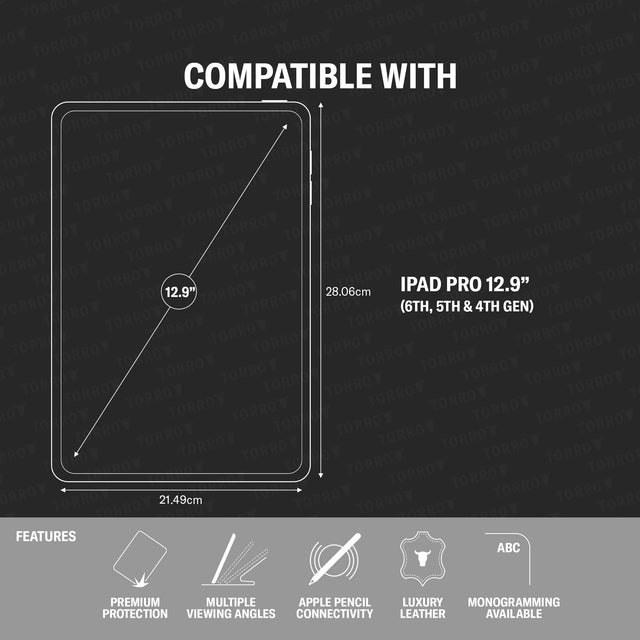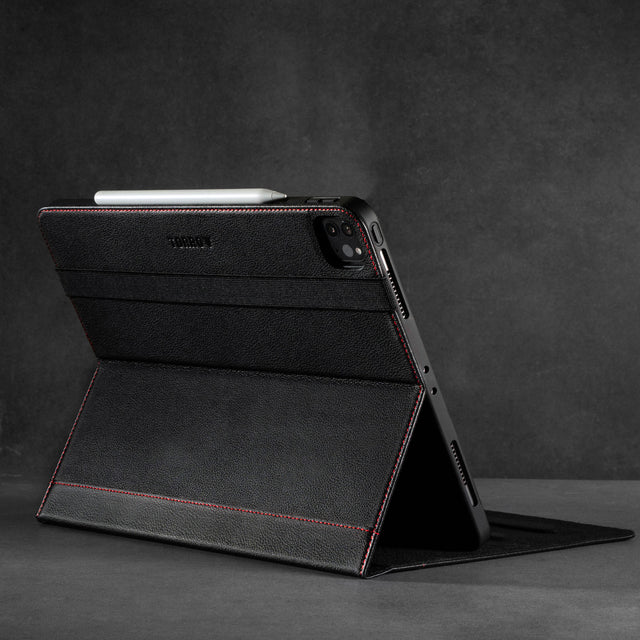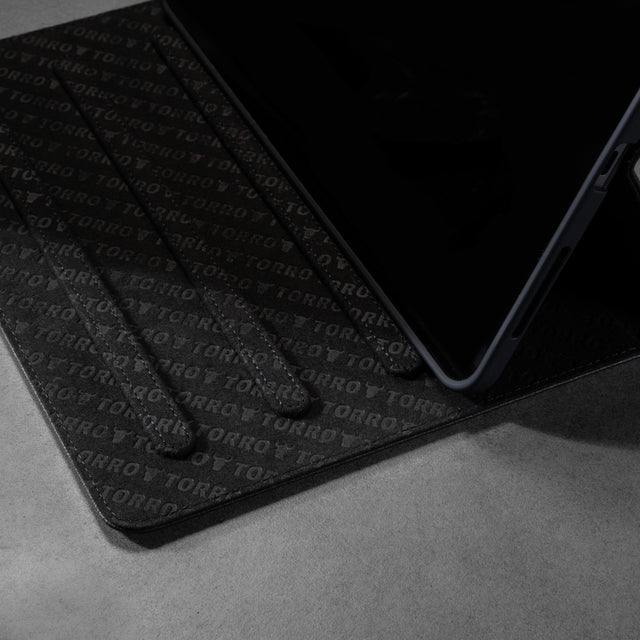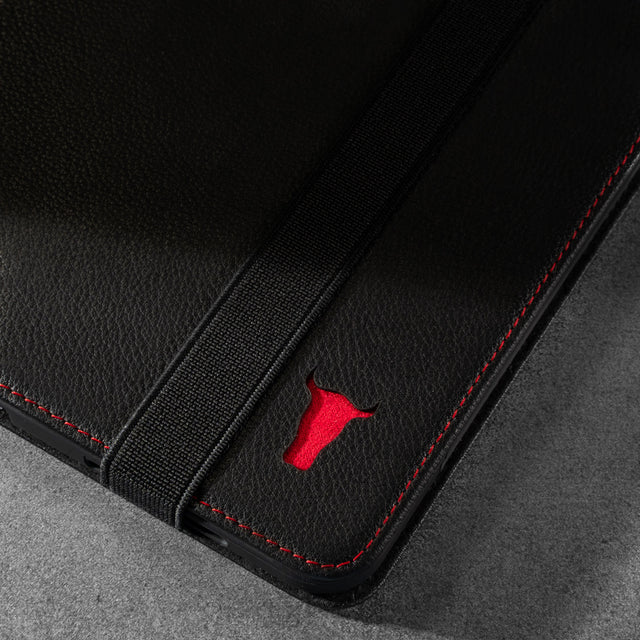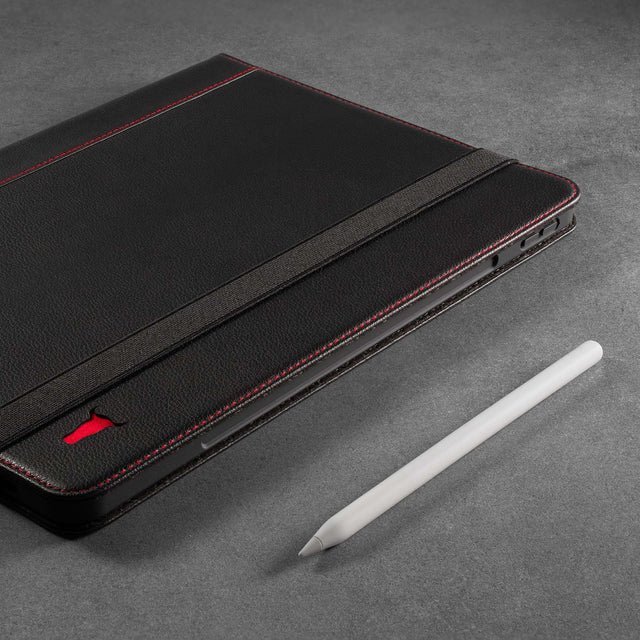 Apple iPad Cases > iPad Pro 12.9" Cases
iPad Pro 12.9" Leather Case (6th, 5th & 4th Gen)
Key Features
Handcrafted from top grain US cowhide leather.
Soft Microfibre lining and durable frame for maximum protection.
Integrated stand function with multiple viewing angles.
Wake/Sleep & Apple Pencil Compatible.
Slim design with full access to all buttons, charging port and camera.
Elasticated closing strap.
Compatible Models:

6th Gen: A2764, A2436, A2437, A2766

5th Gen: A2378, A2379, A2461, A2462.
4th Gen: A2229, A2069, A2232, A2233.
Description
Handcrafted exclusively for the Apple iPad Pro 12.9-inch (6th, 5th & 4th Generation), our leather cover provides a precision fit, ensuring your device is held securely and protected from any accidental knocks and bumps, whilst providing unrestricted access to all features of your iPad.
Handcrafted from top grain leather
Our iPad cases are handcrafted from premium, top-grain cowhide leather sourced from the finest tanneries in the US. Our luxurious leather undergoes minimal treatment in order to preserve its natural properties and appearance.
Strong and Durable frame
Our cases feature a durable inner frame which has been formulated to aid shock absorption and protect your device from drops and bumps. The flexible sides make inserting and removing your iPad a breeze.
Versatile Stand Case

Our iPad Case boasts three standing angles. The highest angle is perfect for watching TV, and the lowest point offers an excellent surface on which to type or use your Apple Pencil.
Apple Pencil Compatibility
Our case has also been designed specifically for use with the Apple Pencil. The side of the frame incorporates an indented groove to facilitate charging of the Pencil (2nd Gen only) while the iPad remains in the case. For a more permanent Pencil storage solution, the Apple Pencil Sleeve (sold separately) will also magnetically attach to the front of the case.
Additional Product Photos & Video
FREE Fast UK Mainland Shipping*
Standard UK Mainland Delivery is FREE on all orders over £20 (£1.99 on all orders under £20). Premium express delivery from only £2.49. Worldwide courier service calculated at checkout.
We pride ourselves on our customer service and all orders received before 1:30pm (Monday to Friday) are dispatched the same day. (Excludes Bank Holidays)
If you have any queries please check our shipping policy and shipping rates.

* additional charges apply for Scottish Highlands & Islands and BFPO.
30 Day Returns & 6 Month Warranty
In the unlikely event that you are not satisfied with your purchase, we offer a 30-day money-back guarantee on all items returned to us in an unused condition.
Our 6 Month Manufacturer Warranty covers you against manufacturing faults which occur during the first 6 months of use.
We are unable to offer an exchange or refund on personalised products unless the product itself is faulty.
If you have any questions or wish to return an item, please contact us on (0191) 270 5143 (10am - 2pm GMT) or email customercare@torro.co.uk
For more information, please read our Returns Policy
Questions & Answers
How does the iPad attach to the case?
The iPad case features a strong, durable inner frame which securely holds and protects your iPad from bumps and knocks.
Does the case hold and charge the Apple Pencil?
Yes it does. We have designed the frame to have a groove in the side, which allows the Pencil to sit and charge whilst still providing full protection of the sides of the iPad.

Will this cover fit the iPad Pro 12.9" 1st, 2nd or 3rd generation?
No, our leather cases for iPad Pro 12.9" are only compatible with the 4th, 5th and 6th generation iPads.
Does this fit iPad Pro 12.9" 6th Generation 2022?
Our premium leather cases for iPad Pro 12.9" support the following models:
6th Gen: A2764, A2436, A2437, A2766
5th Gen: A2378, A2379, A2461, A2462.
4th Gen: A2229, A2069, A2232, A2233.
Will this case fit 6th Gen iPad with Magic Keyboard?
Our cases are designed to hold the iPad device only and are not compatible with keybaords or any other attached accessories.

Does the case contain magnets to keep it shut or do I use the elastic strap?
Our premium leather iPad cases do not contain any magnets to keep the case closed, please use the elastic strap to keep the case securely closed when not in use.
GOT A QUESTION?
Have you checked our FAQs. If you still have any un-answered questions please get in touch
What Our Customers Say
No reviews at present
iPad Pro 12.9" Leather Case (6th, 5th & 4th Gen)