All products made from genuine leather will age with time. Even with excellent care, this is still the case, you simply cannot avoid it. However, a well-cared for and finely aged genuine leather product will be just as beautiful and elegant as a new one, arguably even more so.
Day to day leather care
Taking care of your leather goods starts with basic day to day care. By following a few simple steps, you can extend the life of your accessories and allow them time to develop that striking, unique patina you have always desired. Leather is a natural material that will stretch, in our folio cases for example, we recommend no more than one card to be stored per slot as this will stretch both the card slot itself as well as the leather spine of the case. You should take extra care with your leather items and ensure you wipe away any dust or spots with a soft cloth or brush, frequently.
For the storage of your leather goods, you should ensure that they are stored away from direct sunlight as there is a distinct possibility that this will lead to the leather fading. That is, of course, not to say never take leather goods outside, that would be preposterous, just do not leave them sat in direct sunlight for extended periods of time. Similar can be said for artificial heat sources, for example you should not place your leather products on or directly next to a radiator as this can cause the leather to dry out and crack.
For the best possible ventilation when storing your leather goods, particular the larger sized items like your TORRO Leather Messenger Bag or Leather MacBook Sleeve, we recommend that when not in use you store these in a dust bag and NOT a plastic bag to allow for good ventilation while also minimising the risk of any unwanted marks or scratches.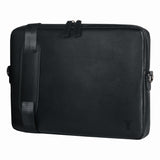 Leather Care Recommendations
One of the questions we have received from customers is if there were any specific cleaning products we would recommend. In the past it would be difficult to make a recommendation as there are many available to choose from and it simply would not be possible to test each to see which works best. Instead, we decided to work with our suppliers to develop our own. The TORRO Leather Care Kit features a nourishing leather balm, perfect for taking care of any marks to your leather products and a leather protector, to help minimise the risk of marks from being picked up to begin with and maintain the natural appearance of genuine leather.
There are two methods to attempt to deal with marks to your case. For a very small mark, you can try to gently rub this with your fingers as the natural oils on your finger will work into the leather and possibly ease up any slight imperfections. For larger marks, you can use our nourishing balm by applying a small amount to your finger or a soft, clean sponge and gently work this into the leather and wipe away any excess product applied. We would generally recommend doing this once a month but the process can be repeated when required for heavily worn leather. 
To protect against staining and marks from everyday handling, you can use our leather protector which will provide and added a layer of protection. Simply apply after wiping your TORRO leathers goods down with a microfibre cloth or soft sponge, leave for around 15 seconds and then wipe down with the same cloth/sponge – leaving the leather with a beautiful finish and maintaining the great leather smell that you love.
Check our Do's and Don'ts of Leather Care article for more tips and advice.