Add style and quality to both traditional and smartwatches
Throughout time, watches have been considered prize possessions by many. In today's age, the vast majority of those who wear watches do so to complement their style and appearance. Wearing a watch is a signifier of your appreciation of craftsmanship and dedication to tradition.
More recently, the Apple Watch is fast becoming the wrist accessory of choice for men and women around the globe. After continuously gaining momentum which each successive launch, the Apple Watch itself has become a status symbol in modern culture (although one would argue perhaps not quite to the degree or prestige of a Rolex or Cartier timepiece).
The interchangeability of watch straps, whether Apple watch or not, has made all watches a further part of who you are, your identity and your personality. You can easily switch your watch band to accommodate any style or situation. Whether in leisure, sports, or professional setting, you can select and equip a strap that perfectly accommodates your needs and further accentuates your appreciation of style and craftsmanship.
Why Choose a TORRO Leather Watch Strap?
Due to their natural comfort, soft and light feel, leather watch straps are a familiar favourite for many, and you will be hard-pressed to find a watch that won't look great alongside a leather band. Leather straps are a great mix for the purposes of regular, everyday use and formal occasions. They are perfect for the everyday individual since they are suitable for almost all scenarios.
Handcrafted with the greatest care from premium cowhide leather and lined with a soft calf leather, TORRO leather watch straps are designed with three pillars in mind – comfort, durability and aesthetic. The soft inner lining ensures maximum comfort throughout the day, while the outer, premium cowhide leather presents a luxury appearance that is perfect for casual, business, and formal wear whilst naturally being pliable and robust. If you're looking for a watch strap that will complement any watch and add a touch of style and quality regardless of the occasion, then look no further.
Why Choose a TORRO Band for Your Apple Watch?
The Apple Watch has many functionalities making it a great piece of wearable tech for many around the world, one of the main functions being to operate as a fitness partner and health monitor. For that purpose, the interchangeability of the accompanying straps comes in extremely useful. It would be entirely reasonable for you to use one strap for your regular day-to-day use, but also another that is more suited for exercise or physical activity.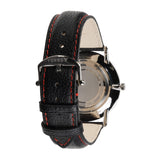 Storage and Travel Protection
As an addition, whether you are a fully-fledged watch aficionado or just starting out on your watch-collecting journey, it goes without saying that you will need a secure storage solution for your watches. The TORRO Leather Watch Roll is designed to do just that. Its compact size, premium leather and protection-first design ensure your watch will be safe and secure, whether placed in a nightstand or while stored in an overnight bag while you're on the move.