The watch that you choose to wear makes a statement about your sense of identity and character. Whether everyone realises it or not, many decisions influence what the right combination of watch and watch strap is for you.
Traditional Watch or Smart Watch?
One of the key choices in today's world, particularly with the popularity of wearable technology continually growing, is whether to opt for a traditional watch or a smartwatch. Traditional watches have certainly maintained their aesthetic appeal over time but with the desire for interconnectivity, the smartwatch is growing ever popular. With features like heart rate tracking and the ability to monitor your sleep cycle, the smartwatch has come an extremely long way from the origins of timekeeping.
With that said, there are still some who don't want to be 'always-on' so, for them, the option of a traditional wristwatch remains infinitely more appealing from both a functional and visual perspective. That is, of course, not to say that a smartwatch can't look good, but there is little which is more aesthetically pleasing than a high-quality, traditional wristwatch.
Leather, Stainless Steel or Silicone?
When it comes to choosing a watch, the watch face isn't the only thing that matters. There is also the question of which material you like your watch strap to be. There is the option of stainless steel which will provide a scratch-resistant and possibly waterproof strap for your watch. An alternative option is, of course, a leather watch strap which has the benefit of feeling a lot smoother on the wrist and will develop a natural patina over time, making it a strap which is unique to you alone.
It's not only a question of which strap you prefer but also the question of whether you require multiple straps for different occasions. Would you rather have a silicone strap to use while you exercise? A leather strap for use in a more professional setting? The possibilities are truly endless.
If it is a leather watch strap that best suits your needs, then TORRO is at hand to assist with Leather Watch Straps and Leather Apple Watch Straps.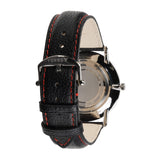 Choosing the Right Watch Strap
When it comes to the dimensions of the watch strap, there are only two that matter – length and width.
Length
The two sides of the watch strap are, of course, separated by the watch face. The larger side of the strap is known as the tail side, with the shorter part being the buckle side. As you would expect, the required length for your watch strap depends on the size of your wrist.
You can easily figure out your wrist size by using a flexible tape measure. If you have a wrist size of below 6.5 inches, then you'd want to look for a slim strap size and well as preferably using a smaller watch face or the 38/40/41mm Apple Watch. A strap measuring between 6.5 and 7.25 inches would be best suited for you.
If your wrist size is between 6.5 and 7.75 inches, then you'll generally be fine with any size watch face and either size Apple Watch. With that said you should also avoid using a strap no longer than 8 inches.
For anyone with a wrist size above 7.75 inches, then you'll likely want to use a large watch face or the 42/44/45mm Apple Watch. You should also seek out a strap which is at least 7.75 inches in length, longer if required depending on your actual wrist size.
Width
When it comes to the width of a watch strap, your wrist size does also play a role. The width isn't as important as the length, but a wide strap may not be best suited for a small wrist for example. In this instance, it's more a case of selecting based on personal preference. Although if you are replacing an existing watch strap, you will need to be aware of its width to ensure that the replacement/new strap is the same width. A wider strap may not be suitable for the connectors of your watch.
Choosing the correct watch for you doesn't have to be a quick decision, it can even be something which evolves with your preferences over time. When it comes to deciding on your next watch or watch strap, keep all of the above in mind to ensure you make a choice which makes an ultimate statement of your taste.